Moskva ***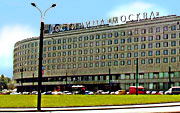 from $54 + VAT

Two restaurants, business-center, barbes shop, shops. Exchage office.
Has 735 rooms. We'll advice you agoinst ordering the breefast.
Address:
2, Alexandra Nevskogo square., Sankt-Petersburg (See map).
Sincere Women

7320 N Dreamy Draw Drive
Phoenix, Arizona 85020
(602) 553-8178
FAX (602) 468-1119

Contact Us



THIS PROGRAM IS THE SOLE PROPERTY OF SINCERE WOMEN AND MAY NOT BE COPIED IN ANY WAY OR FORM WITHOUT EXPRESS PERMISSION FROM SINCERE WOMEN.

© COPYRIGHT 1996-2020 - ALL RIGHTS RESERVED.